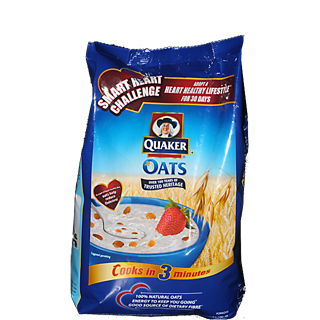 Trending
When it comes to packaging, nothing catches a buyer's eye faster food packaging in stand up pouches. A recent post on Amazon says it best: "To be honest, I tried this oatmeal because I thought the packaging looked nice … tasted better ... can't wait for more flavors!"
Stand up pouches are ideal for cereals (think granola) and exotic oatmeals (think Quinoa) and even Quaker Oatmeal. These packaging solutions are quietly being showcased on cereal aisles across the U.S. While it's too early to tell if a trend is emerging, it's worth noting that there is wide global acceptance of pouch packaging for oatmeal, dry and liquid products, food and non-food product lines..
This is not to say the cereal packaging industry has chosen to replace the tried and true plastic bag insert in cardboard boxes. That packaging solution has been around for a very long time in the U.S. But it is safe to say that stand up pouches made of recyclable, renewable, flexible, puncture resistant barrier film oxygen absorbers will lock out harmful elements and keep products fresher longer.
Stand Up Pouches come with a variety of options including zip locks for easy open, easy close; tear notches, hanging holes, pour spouts, handles, and if needed gas release valves.
Our pouches feature oxygen absorbers, high-barrier film, custom printed designs rotogravure imprinted with eco-friendly paints to create visually stunning packaging solutions that showcase beautifully on store shelves. Big or small, tall or stout, flat bottom or stand up, spouted or zip locked, pouch packaging will always grab attention on store shelves. Why not visit StandUpPouches.NET and request SAMPLE PACKS – it's easy and FREE.